Did you know that you're more likely to try a new look in the summer months? Keep up with the latest hair trends here at Headhouse Hair Salon in Horsforth.
This summer's hair trends are all about colour – the easiest and most dramatic way to transform your look! Platinum Blonde is currently one of the hottest hair trends of summer. Stars like J-Law and Kristen Stewart have opted for icy blonde bobs, worn curly, straight or wavy. This ultra-white shade looks both edgy and elegant at the same time. Or, if you're not ready to commit to all-white, à la Taylor Swift, go for that sun-kissed look by using lighter pieces that frame your face and keep the rest of your hair a more natural shade.
Rose Gold or Sunset Hair has been huge on Instagram.
A shimmering blend of red, pink and blonde shades, Rose Gold is super flattering and a great way for brunettes to lighten up without going blonde. Here at Headhouse we think it's the perfect style upgrade!
Kylie Jenner bought Rainbow Hair to this year's Coachella, with temporary dye jobs another key trend this summer. Or why not try a colour rinse in pastel tones? Choose from summery shades like silvery lilac and gorgeous peach and girly pinks. Headhouse recommend you keep your coloured hair in condition with Argan Secret Hair Elixir Oil from Marrakesh, with nourishing argan and hemp oils for use on all hair types.
Nude hair is one of the latest hair trends this summer
If you want something more natural, Nude Hair could be the trend for you! With an even amount of both warm and cool tones which cancel each other out, a neutral colour is created, giving an all over "nude" look to your hair. These neutral hues are easy to wear and look good with all complexions as they mimic your natural colour. Another advantage is they can easily be changed – you can go from neutral to gold to ash, keeping the same level of lightness but achieve a totally different look. Why not give it a go? Speak to us at Headhouse or book a colour consultation to find out more.
Straight Hair is back, as seen on spring/summer catwalks.
Hair was sooo very sleek and shiny, worn both loose and tied up in super-smooth ponytails, so it's time to get out your straightening irons again! Centre partings were teamed with the hottest hair accessory, the high-shine headband, also seen in neon, monochrome and metallic or embellished at D&G, who took it a step further with gold decorated headpieces.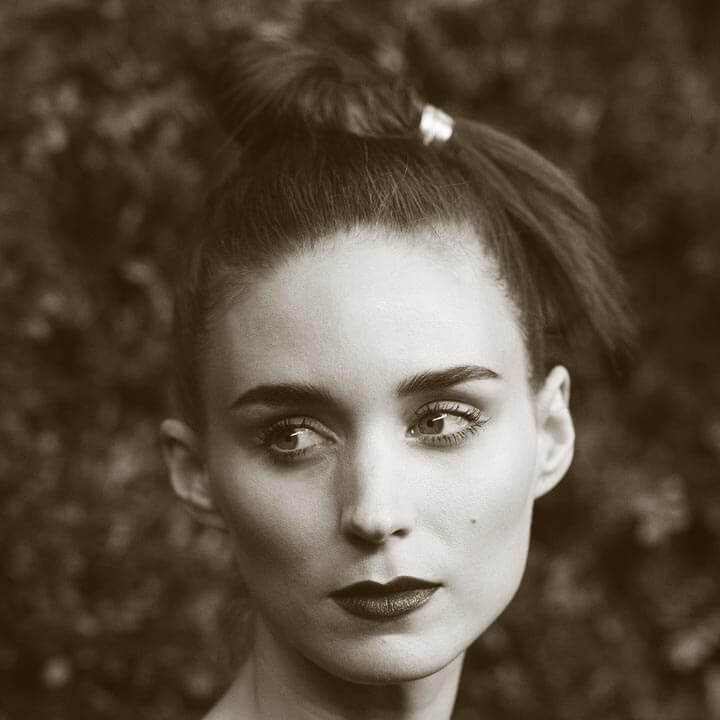 This summer has also seen The Pun, a ponytail/bun hybrid (as sported by Rooney Mara – see above) that can be worn low or high, textured and messy or super sleek.
The Short Fringe has also made a comeback, accessorised with pretty pastel hair slides, what's not to love?
At the other extreme were Buzzcuts, surely the boldest cut of the season and not for the faint-hearted! Worn with oversized sunglasses at Gucci, it's certainly one way to keep cool this summer…
What's your favourite hair trend? Let us make your summer transformation a reality at Headhouse Hair Salon. We'd love to hear from you – contact us to book a hair consultation today!